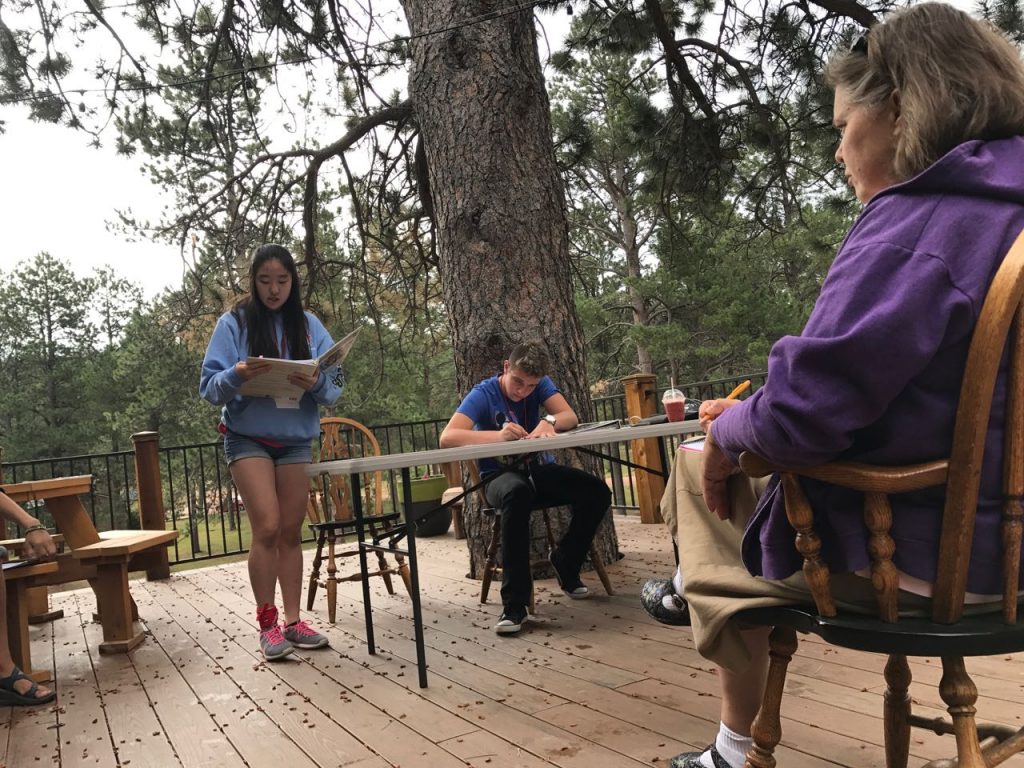 Debating Under the Ponderosa Pines: These debaters chose to scrimmage outdoors in 2017.
Ponderosa Camp & Conference Center
15235 Furrow Road
Larkspur, Colorado 80118
Google Map
Situated just off of I-25, we're right between Denver and Colorado Springs and the perfect spot to learn the academic rigor of debate. Nestled in the pine-covered foothills of the Rockies, the Ponderosa serves up some of the best food you'll find in a casual destination — all created in Colorado style with a slight southern accent.
Upon arrival, you'll need to switch gears to prepare yourself for a place where you can hear yourself think. The schedule for Training Minds Camp is intense, so come with computer/notepad ready to learn. There is some recreation fit into the schedule, but the schedule is geared primarily toward debate competition.
Debate is an aggressive activity that demands an incredible amount of brain work. Mixing this "brainy" activity with the mountain atmosphere strikes a perfect balance between fun and excellence, relaxation and drivenness, beauty and academia.
Lodging & Meals
Lodging is in dormitory style rooms. Bedding (sheets, pillows, etc.) is not included, but may be requested ($20 extra fee) when registering. Students will be separated between male and female genders. Dormitories will be monitored by supervising adults.
All meals are included in your registration. Any special dietary requests should be included when prompted in your registration. Campers start meals with dinner on Tuesday and end with breakfast on Saturday.
Travel
The Ponderosa is located at 15235 Furrow Road, Larkspur, Colorado 80118. Google Map
Please do not contact the facility concerning camp; direct all correspondence through Training Minds.
Flying in? We recommend arriving at Denver International Airport (DEN) during the morning of July 10 (check-in opens at 12:30pm), and out on July 14 (we end at 12 noon, but do not find a flight earlier than 4pm). DEN expects attendants to arrive two hours before departure. If you have trouble finding a flight home, we may request the Ponderosa to stay another night and flying home on Sunday. Please contact us to make arrangements.
Need a lift to/from the airport? Contact us to inquire. We have some parents who will be transporting students at arranged times, and we will charge $70 round trip, $35 one-way.
Ropes Course!
All students will go through a special 2-hour group-building activity. This is a "low-ropes" course meant to build a team-building mindset. A waiver will be required for you to participate, signed by parents of minors. This course is meant only for student participants (but parents and coaches are welcome to watch!).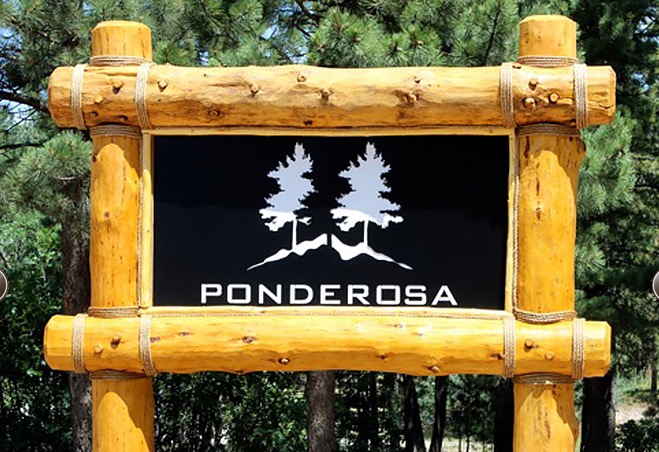 Watch for the signs! We will see you at the Ponderosa.